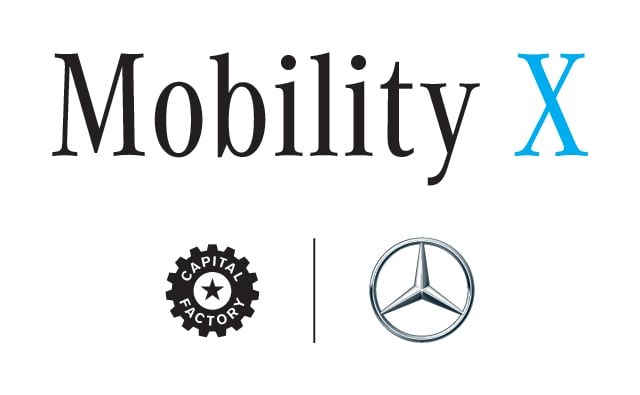 ALL APPLICATIONS ARE ON A ROLLING BASIS UNTIL NOVEMBER 15TH @ MIDNIGHT (12:00AM CST)
We believe entrepreneurs have the power to change the world. Help us discover the most promising, highly scalable startups that are poised to find solutions for the challenges transportation services face.



Competition Question
It's no secret that car OEMs find themselves traversing competitive landscapes on multiple fronts. Some of these competitive fronts include managing digital transformation, changes in mobility preferences, the rise of shared services, new competitors in vehicle electrification, rapid development of autonomous driving and the rise of fintech, to name a few. Daimler realizes that in order to thrive it must be innovative, nimble, open-minded and customer-focused. As a result, we are continuously looking for outside innovations to support and complement our internal innovation efforts. To this end, MobilityX is pleased to announce its first annual "SOLVE FOR X" pitch competition.

MobilityX's "Solve for X" is an open casting call to any and all startups that feel they have the solution that will take Daimler Financial Services and Mobility Services to the next level in innovative thinking. We encourage you to focus on future mobility, marketing, sales, finance, AI or digitalization of an internal process. Or come surprise us with something new. This is your chance!
PRIZES
Three winners will get a monetary incentive package:
1st prize (winner): $10,000 USD
2nd prize: $5,000 USD
3rd prize: $2,500 USD
JUDGING CRITERIA
Business Model & Growth Potential - Contestants must be thorough in establishing the need they are looking to solve, and the approach to the solution must be replicable in the real world.
Innovation - Ideas should be new, creative, simple and holistic.
Scalability - Contestants must address how their idea scales across a large international business.
Strength of Team - Contestants must demonstrate that its team has the skills and leadership to successfully move forward with their idea.
Education & Traction - Contestants must address technology, approach and methods of data processing and show to what extent their business model can be applied.

Timeline:
November 15 - Applications close
November 16 -17 - Semifinal pitches at Capital Factory
November 21 - Finalists announced
November 27 - Final decks due to Capital Factory
November 29 - 30 - Final on-site Pitch Competition
What to know about submitting your pitch...
We Want You...to submit a valid entry. Once you click "Apply Now," you will need the following information:
Company background and details

Description of your company's pitch and competitive advantage

The reason we should choose you to present

All relevant details including contact information, social media, and website links

ALL APPLICATIONS ARE ON A ROLLING BASIS UNTIL NOVEMBER 15TH @ MIDNIGHT (12:00AM CST)


L
ocated at Capital Factory - 701 Brazos Street Austin, Texas 78701